Yes, I write under two names. But no matter the name, the story is always mine.
I discovered my first romance novel at the age of twelve in a bargain bin at the local five and dime. It involved swashbuckling pirates having grand adventures on the open sea, a heroine with a mind of her own, and a seriously mouthwatering, masterful hero who swept her away no matter how clever she was.
I was immediately smitten with romance and all the romantic themes I could get my hands on.
I had grand plans to star on Broadway – preferably in Evita, just like the great Patti LuPone. Sadly, my inability to wow audiences with my singing voice required a back up plan, so I launched myself into academics instead. This was not a good fit for someone who liked lounging about and reading books a lot more than dissecting them in classrooms, but it did allow me to live in England for half a decade, so I can't complain.
Writing (and finishing!) my first book was a relief.  And actually publishing that book was one of the greatest thrills of my life.
Now I'm some 80 books in, I'm still a romance fanatic, and yes, I'm still plotting my Broadway debut.
If you're new to my books, try starting here.
---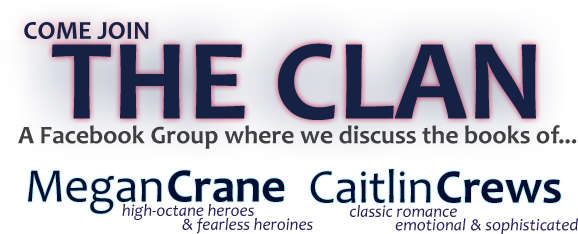 Why don't you write more essays?
I had a lot of fun writing the essays for It's A Wonderful Lie and Everything I Needed to Know About Being A Girl I Learned from Judy Blume, but one of the things I learned while doing them was that I much prefer the veil of fiction. My chick lit books are written in the first person, which makes them feel as if they're true and accurate accounts of a life that might be mine, but they're not. I like it that way.
Update: Well, never say never. I got the opportunity to write a little essay about Paris, so there's another nonfictional and unveiled story of mine to read in A Paris All Your Own. Because it's a personal rule of mine that I never, ever, say no to Paris.
Which URL should I use: MeganCrane.com or CaitlinCrews.com?
Either! There is only one site, but like me, it answers to two names. I am using MeganCrane.com in my promotional materials, but whichever URL you use, it will get you to the info you are looking for. Magic!
Are the Fifth Avenue and Forbidden series linked?
Yes!
Some characters who first appear in the Fifth Avenue books have their own stories told in the Forbidden books. You could read all seven books (including Take Me, the prequel novella) in a row, or you could read only Fifth Avenue/only Forbidden, or you could even read individual books without reading the others. But there's definitely an arc to all seven, if you choose to read them in order!
The Fifth Avenue series:
Prequel novella by Maisey Yates: Take Me
Book One by Maisey Yates: Avenge Me
Book Two by Caitlin Crews: Scandalize Me
Book Three by Kate Hewitt: Expose Me
All four books are also available in a handy box set.
The Forbidden series:
Book One by Maisey Yates: The Billionaire's Intern
Book Two by Kate Hewitt: The Billionaire's Fantasy
Book Three by Caitlin Crews: The Billionaire's Innocent
I love pictures. I take a lot of them.
Something is wrong.

Instagram token error.
An interview...
It's not super new, but I'd still say all the same stuff on the subject of Frenemies:
And here are some other items of note: