Yes, I write under two names. But no matter the name, the story is always all mine.
I discovered my first romance novel at the age of twelve in a bargain bin at the local five and dime. It involved swashbuckling pirates having grand adventures on the open sea, a heroine with a mind of her own, and a seriously masterful hero who swept her away no matter how clever she was.
I was immediately smitten with romance and all the romantic themes I could get my hands on. (I still am.)
I had grand plans to star on Broadway – preferably in Evita, just like the great Patti LuPone. Sadly, my inability to wow audiences with my singing voice required a back up plan, so I launched myself into academics instead. This was not a good fit for someone who liked lounging about and reading books a lot more than dissecting them in classrooms, but it did allow me to live in England for half a decade, so I can't complain.
Writing (and finishing!) my first book was a relief.  And actually publishing that book was one of the greatest thrills of my life.
Now I'm some 100 books in, I'm still a romance fanatic, it still thrills me to see my books on shelves, and yes, I'm still plotting my Broadway debut.
If you're new to my books, try starting here.
If you are looking for information for journalistic/editorial purposes, view my media kit.
---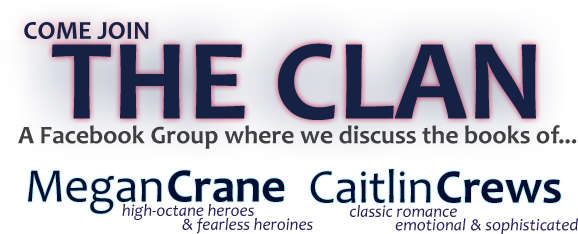 How do I sign up for your newsletter?
After clicking "subscribe" you will receive an automated email asking for a confirmation of your subscription request. Please click the confirmation link as per the emailed instructions and you'll be on the list and ready to get all of Megan/Caitlin's book news!
If you subscribe with an AOL, Yahoo, or Gmail email address, you may need to check your "bulk"/"spam" folder for your MEGAN/CAITLIN NEWSLETTER CONFIRMATION EMAIL.
Please make sure you set your spam filter to receive emails from @megancrane.com.
Click here for more on privacy.
There are lots of different ways to stay connected with what's new with Megan/Caitlin and her books. How do you like to be informed?
What's the chronological order of the Edge series?
The Edge series takes place over the course of a very busy year or so far, far in the future.
Edge of Obsession and Edge of Temptation take place more or less at the same time in early summer.
Edge of Control takes place later that same summer, edging into fall.
One Fine Winter Morning with Tyr and Helena (bonus scene) takes place in November.
A Deep and Dark December Evening with Gunnar and Maud (bonus scene) takes place in December.
"Need's Edge," in Edge of Ruin, takes place in January of the following year.
Edge of Power starts in March of that year.
"Danger's Edge," in Edge of Ruin, starts after the March equinox in the same month.
"Raider's Edge, in Edge of Ruin, takes place in April.
I don't understand the family in Once More with Feeling. Who would act like that?
One of the things I wanted to explore in Once More With Feeling was this notion we all have that, if called, we'd be heroes. We'd race into the burning building, we'd jump in front of the bullet, we'd save the child. And what I love about this world is that when the big things come at us, yes, I believe we do the right thing more often than not.
But it's the small things that trip us up. The everyday opportunities to stand up for each other and do the right thing no matter if it's hard or if it makes people uncomfortable or if doing it makes our lives a little less easy than they would be if we did nothing. In my experience, most people go to great lengths to avoid conflict and tend to get angry at the person who refuses to go along with that, not necessarily the person who caused the conflict in the first place.
I completely understand if Sarah's family upset you. They were supposed to upset you. They upset me, too.
I love pictures. I take a lot of them.
Interviews
And here are some other items of note: